What Type of Material is the Best for My Screen Door?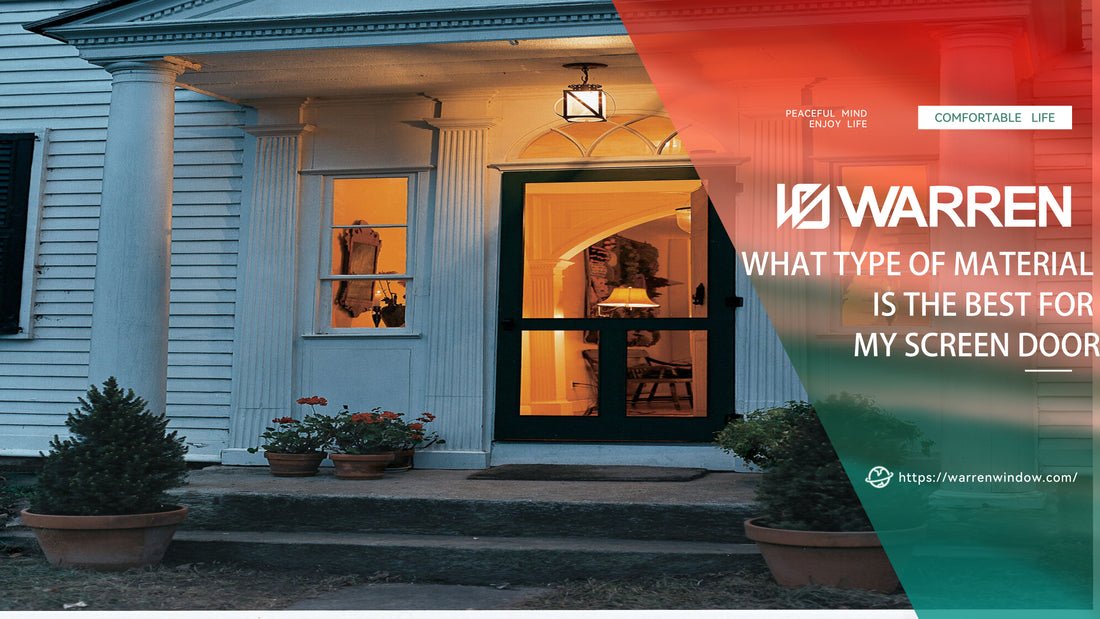 There's nothing like a cool breeze of fresh air on a summer's day to bring the best of the outside into your home. Unfortunately an open door is an invitation for plenty of other outside issues to start intruding. Bugs or pollen can get in, household pets or little kids can get out - the door is better off shut for a reason. But a sizeable doorway offers a view and a passage better than any window can.
If you want all the enjoyment of the outdoors while still having a door to look out of you can get a screen door.
Benefits of Screen Doors
Screen doors are doors with mesh screens instead of windows that allow air through. It's a happy middle ground between a window and a door, allowing an open space in what is otherwise a fully closed fixture.
Ventilation
Having a screen means the air can flow through it freely. The screen is thin enough to let air and moisture in, which can bring a cross breeze of freshness through the home.
Irritant Prevention
Opening a window is a fast way to get bugs, but most annoying insects can't fit through a screen. The mesh is thin enough that bothersome flies or fearsome hornets can't squeeze through no matter how hard they try.
Energy Efficient
Having a cooling breeze in a hot summer is easier on the energy bill than running an air conditioner all day long. It lets you bring the good day inside and chase the bad air out.
Security
Screen doors have locks, too. The screen itself is not always big enough for a human to fit through if penetrated. And it's not so flimsy to be broken in with little effort. Screens can be made of wire, with reinforced frames, making them more secure than some windows.
Curb Appeal
Screen doors are nice to look at. If you have a door that is otherwise lacking in the looks department, a screen door can cover for it and draw the eye to it instead.
Types of Screen Doors
There are many types of screen doors that can fit any style of home. Installation is usually very easy. It's as easy as installing an extra door. What kind of door depends on the fixtures, and there are screen doors to match almost any kind of door.
Classic
Like any standard door, these come on hinges and can swing out. The door they cover will swing in the opposite direction so they can both fit on the same frame. They can be installed with springs or dampeners to keep them from slamming.
Retractable
These types of screens are more like covers than doors. They slide out on a track and can be hidden completely from the front door either to the side or into a "roll" that feeds the screen mesh out.
Pivoting
These are simpler screen doors on a pivot instead of a hinge. Hinges need to be fixed into a frame and offer limited movement. Pivots have a fuller range of rotation, they're pegs and holes.
Sliding
Sliding doors go along a track and are often paired with sliding doors or glass doors. They usually have nearly full mesh-screen coverage without any cross-sections for support to give the fullest view from the other side.
Best Materials for Screen Door
Screen doors can be made of different materials to fit budgets and unique uses. These materials have their own cost, weight, and maintenance that is required. Screen doors also offer protection for the doors they are fixed to, so any damage that would go onto them will hit the screen first. Keep that in mind when choosing a proper screen door.
Wood
Wood doors are simple, lightweight and good-looking. You can get them in all types of wood, including Fir, Oak or finer quality blends like Mahogany. Wooden doors need regular upkeep, applying stains or varnish to keep them from being damaged by the elements.
Glass
These are a combination of a plastic or glass laminate over the screen itself. Instead of letting the air in, these are more for filtering light and are best for outdoor areas which don't lead directly into a house, like a patio.
Aluminum
Most doors made of metal are made of aluminum. It's an incredibly versatile material that's durable, but also flexible enough to repair with ease. They're heavy enough to be wind resistant as well so your screen stays in one place during storms.
Metal
Other metals like bronze and copper have a natural aesthetic which can be polished to bring it out. They're more expensive than aluminum but they don't rust and, depending on the alloy it's made of, will look like nothing else.
Steel
This is the heaviest and strongest material for a screen door. Steel screen doors can allow more area covered by the screen as the frame alone is sturdy enough to keep it secure for a long time.
Vinyl
Vinyl is a composite material with the durability of plastic but the customizability of other materials. It looks good outdoors and in, for patios or balconies, and lasts extremely long against the elements.
Fiberglass
Fiberglass doors are an alternative to metals and composite materials. They're among the lowest-priced options and are very lightweight. Fiberglass is very durable but fades with age.
Plastic
The cheapest, simplest screen door is made of plastic. They're lightweight, flexible, and stronger than they look. They also have the same resistance to the elements as stronger doors. If you want your first screen door, a plastic one will fit in and function just fine!