Best Bifold Garage Door Designs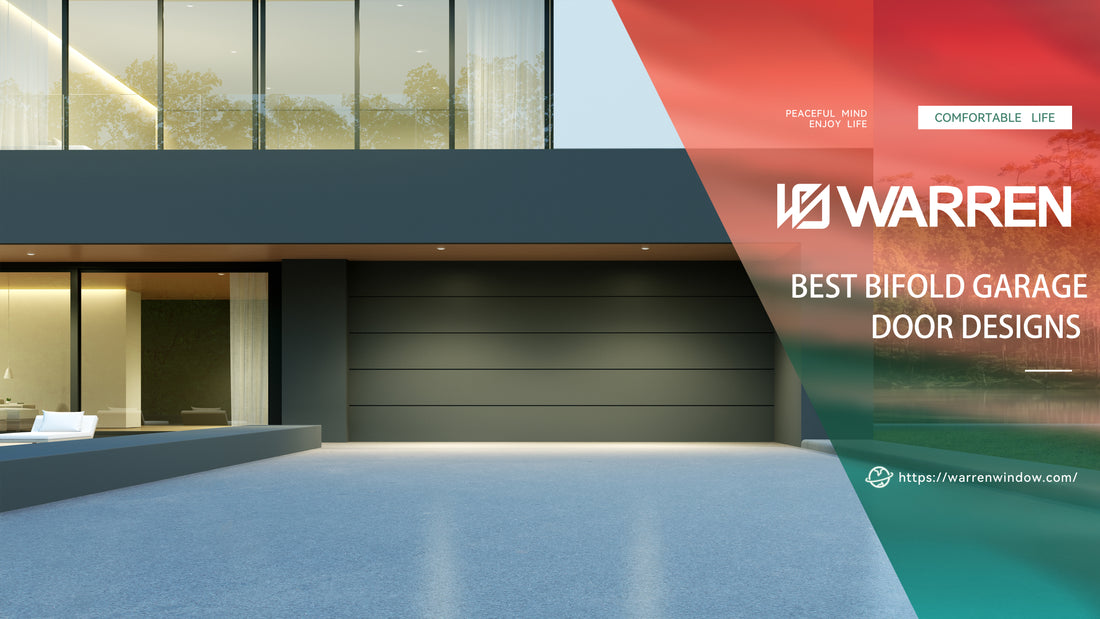 Recently, bifold garage doors have become the preferred choice for homeowners and businesses alike due to their stylish appearance and space-saving design. Easily opening and closing with a folding mechanism, these modernized doors provide an aesthetically pleasing alternative to traditional overhead garages - plus they come in an array of designs from classic styles to contemporary models that can be tailored to fit your specific tastes!
In this article, we will explore some of the best bifold garage door designs available on the market. Whether you are looking to upgrade your existing garage door or install a new one, there is sure to be a bifold door design that will suit your needs and enhance the look of your property.
Standard Size(ft')
Width
 Height
Size
4
21
4x21
7
16
7x16
8
7, 8, 16
8x7,

 

8x8,

 

8x16
9
7, 8, 9
9x7,

 

9x8,

 

9x9
10
7, 9, 10, 12
10x7,

 

10x9,

 

10x10,

 

10x12
12
7
12x7
16
7, 8
16x7,

 

16x8
18
18
18x18
24
8
24x8
1.
Residential Vertical Bifold Garage Doors
Residential vertical bifold garage doors have become increasingly popular, particularly as an alternative to a traditional overhead or sectional garage door. Vertical bifold doors come in various colors, materials, and designs to suit different tastes, preferences, and budgets.
They are ideal for homes with driveways or garages with limited headroom where overhead doors would not fit. More importantly, the vertical movement reduces the amount of ceiling space that a traditional garage door would have used.
One significant benefit of installing a vertical bifold door is that they offer more space for parking, storage, and moving within the garage. Unlike traditional swing-out doors, bifold doors don't require a wide clearance area when opening or closing. Since they fold above the opening, they provide a clear passage, allowing you to park your car close to the door.
Most bifold doors are constructed using lightweight materials like aluminum and fiberglass. These materials are not only durable but also resistant to dents, rust, and corrosion. Additionally, they can be finished with sleek coatings that complement the look of the rest of your house.
Pros
Maximizes vertical space in your garage, allowing for more storage or a taller vehicle to be parked.
Can add a modern and stylish look to your home's exterior.
Provides easy and quick access to your garage with its fold-up design.
Requires less horizontal space than traditional garage doors, making it ideal for homes with limited driveway space.
Offers good insulation, keeping your garage and home warmer in the winter and cooler in the summer.
Cons
Can be more expensive than traditional garage doors.
Requires a higher ceiling clearance, which may not be feasible in some homes.
2.
Residential Horizontal Bifold Garage Doors
Horizontal bifold garage doors, as their name implies, fold horizontally instead of vertically. These doors contain multiple horizontal sections hinged together and open in unison by sliding into a parallel position when fully opened. If you have little room on the walls or ceiling above your garage, this is an ideal solution!
Benefits of Choosing Horizontal Bifold Garage Doors
In addition to freeing up space, choosing these doors for your garage has several other advantages. Natural light will easily flow into the room if you're using it as an extra workspace, and they give a modern design that makes any home stand out in comparison to its neighbors. Furthermore, their increased durability is ideal for withstanding harsh weather conditions more effectively than conventional doors.
Pros
Saves space
Modern look
Easy to operate
Secure
Customizable
Cons
Costly
Requires regular maintenance
Limited sizes
3.
Canopy-Type Bifold Glass Garage Door
A canopy-type bifold glass garage door is simply stunning, adding a hint of contemporary sophistication and the illusion of extra space to your home. Because it's primarily constructed with glass, this type of door allows natural light to brighten up the area while providing superb insulation against temperature extremes, sound pollution, and dust particles when closed. By choosing such an eye-catching solution for your garage entryway you can enjoy all year-round comfort in addition to aesthetic elegance!
Sealing tight, these doors are guaranteed to be secure against any outdoor element. You can be sure of its reliability and sturdiness with the bi-folding mechanism that saves way more space than traditional garage door models. These garages require less maintenance for them to remain running efficiently as well!
Pros
Stylish and modern design
Allows natural light in
Provides a panoramic view
Increases curb appeal
Space-saving bifold operation
Cons
Expensive compared to traditional garage doors
Requires regular maintenance
Can be prone to damage from extreme weather conditions
4.
Vertical Bifold Doors for Garage
Vertical bifold doors are a great way to maximize the use of your garage space. Traditional garage doors swing open and take up valuable floor area, but bifold doors fold towards the ceiling, allowing you to make full use of the entire height for storage purposes. A broad assortment of materials such as steel, aluminum, and glass can be chosen from with finishes that will perfectly match your home's decor scheme.
Not only do they look great, but the heavy-duty materials make them both strong and secure, so you can have peace of mind that your property is safe. Furthermore, these distinctive doors can be locked tightly for extra protection when not in use. Not only are bifold doors more resistant to break-ins than conventional garage doors, but they also excel when it comes to sound insulation.
The vertical design creates a barrier between your living space and the garage, which helps reduce noise levels coming from within. Moreover, thanks to their insulation properties and tight seal upon closing them up, you can expect significantly reduced disruption of any kind originating from inside your garage!
Pros
Space-saving design
Easy to operate
Provides full access to garage interior
Customizable options available
Aesthetically pleasing
Cons
Higher upfront cost
Limited insulation capabilities
5.
Commercial Bifold Garage Doors
For commercial spaces where ample width and height are of utmost importance, bifold garage doors provide the perfect solution. Unlike standard up-and-down or sideways sliding garage door designs, bi-folds fold in half vertically - making them ideal for places with limited space while still allowing large vehicles to move through freely.
Bifold garage doors are also a perfect fit for a variety of industries and offer several advantages that make them stand out from the crowd. With increased visibility and light coming in through these doors, they're ideal for car dealerships, showrooms, or any other business that requires customers to view their products up close.
Plus, bifold garage doors also have superior energy efficiency thanks to excellent insulation capabilities - making them more eco-friendly than many of their counterparts! With bifold doors available in a range of materials from steel to aluminum, and even wood, there is sure to be something that meets your style needs as well as budget.
To guarantee the safety and durability of your garage door, regular upkeep is essential. Much like any other commercial door, routine cleaning, and maintenance can help keep it functioning properly for an extended period. Moreover, ensure they are correctly installed by hiring a reliable contractor who will examine them regularly—this plays an important role in preserving their overall quality!
Pros
Space-saving design
Quick and easy to operate
Durable and low maintenance
Provides good security
Can enhance curb appeal
Cons
May not be suitable for larger vehicles
Limited insulation options
Higher upfront cost than traditional doors
6.
Wooden Bifold Awning Garage Door
If you are looking for the perfect combination of security, style, and practicality, then wooden bifold awning garage doors should be your go-to choose. Highly secure and constructed with extremely durable wood material, these doors can keep away unwanted guests or intruders while providing a distinctive charm to your home's exterior. Not to mention that they also offer excellent insulation against external weather conditions ensuring an ideal temperature inside the garage at all times.
And also these garage doors can be tailored to suit your individual style and home design. Wood finishing options are available on the door like paint, stain, or varnish to provide more style to your garage door. You can also modify the size, shape, and design elements to match your own preferences. Additionally, wood comes in different textures and grain patterns, giving you an endless array of choices to get the perfect look for your home.
Pros
Stylish and unique
Durable and long-lasting
Energy-efficient
Provides natural light and ventilation
Can be customized to fit different garage sizes
Cons
Requires regular maintenance
Can be affected by moisture and humidity
7.
Hydraulic Bifold Overhead Garage Doors
Hydraulic bifold overhead garage doors offer several advantages, not least because they open and close vertically to create an opening that is bigger than with traditional sectional or roller doors. Furthermore, these vertical lifting door systems use hydraulic cylinders for their smooth operation which makes them more secure and much less likely to malfunction compared with ordinary ones. With such reliable safety features as well as the convenience provided by having greater accessibility into your garage space, it's no wonder why this type of Door System has become increasingly popular in recent years!
Additionally, they are very difficult to break into, providing a high level of security for your home or business. Another key advantage is their insulation and energy efficiency. With airtight seals and thick insulation, bifold doors can significantly reduce heat loss and noise pollution, keeping your garage or building warm and quiet even in harsh weather conditions. Finally, the sleek, modern design of these doors adds a sophisticated and stylish touch to your home or business.
Pros
Space-saving design.
Easy to operate.
Durable and long-lasting.
Secure and difficult to break.
Customizable to fit various sizes.
Cons
Expensive compared to traditional doors.
Requires regular maintenance.
8.
Automated Bifold Doors for Garage
Bifold garage doors not only provide an easy opening and closing mechanism but also require less space than other models. With automation capabilities, you no longer need to worry about manually trying to lift the door - plus you can control the automated bi-folds from anywhere with your mobile device!
For those who prioritize security measures when it comes to their home, rest assured: Automated bifold garage doors include a secure lock feature that is activated as soon as they are closed. Now convenience and safety come hand-in-hand with automated bifold garage doors.
With bifold doors, you can rest assured knowing that your garage is secure from intruders. The design of these types of doors makes them more difficult to break into than traditional garage doors. Not only does this give you peace of mind about safety, but it also enhances the aesthetics of your home with its modern and sleek look!
Furthermore, when making your selection for a bifold door there are many materials such as aluminum, steel, or even glass available in an array of colors so that they perfectly match the exterior of your house.
Pros
Convenient to use
Space-saving design
Enhances security
Adds value to the property
Low maintenance required
Cons
Expensive initial investment
Requires power source
9.
Overhead Bifold Glazed Garage Doors
Bifold glazed garage doors are an innovative solution for those who need more space, as these open vertically and require minimal room to operate. Unlike traditional overhead doors which use a complicated track system, bifold models simply fold away toward the ceiling or wall. Not only does this save valuable floor area but insulated versions also generate energy savings by keeping in heat during the winter and cool air during the summer months.
Investing in an overhead bifold glazed garage door is the perfect way to achieve a comfortable temperature in your garage while also saving you money on utilities. The insulation provided with these doors is incredibly efficient, making sure that your space remains at a pleasant temperature year-round. Don't miss out; upgrade now and start enjoying the benefits!
Pros
Space-saving design
Aesthetically pleasing
Good insulation properties
Easy to operate
Secure and durable
Cons
Expensive compared to other garage doors
Limited availability in some areas
10.
Bifold Fire Station Garage Doors
Firefighters play an essential role in preserving the well-being of our neighborhoods, but they can only do that effectively if outfitted with proper tools and equipment. Bifold fire station garage doors offer a huge advantage due to their space-saving design—unlike traditional overhead doors, bifold doors fold in half when opened, dramatically reducing headroom requirements.
By utilizing this design, fire stations can maximize their limited space and get the most out of it. It's an excellent choice for volunteer departments that don't have many resources to build a proper facility.
When shut, these doors provide complete protection from outside elements such as debris and pests. Firehouses typically contain valuable items like trucks, hoses, and other essential gear needed in fighting fires - thus making it even more important to keep them safe at all times!
Pros
Saves space
Quick and easy to open
Allows for larger vehicles
Good ventilation
Modern and stylish
Cons
Expensive
Limited insulation
Final Verdict
By now, you should have a much better understanding of the different types of best bifold garage door designs that are out there and how each one can positively contribute to your home. It's no secret that these doors are incredibly useful, practical, and effective in providing easy access to your garage. At the same time, they also add an element of style and sophistication to any property they're installed into – making them a worthwhile investment.
With so many design options available, it's only up to you to choose which style works best for you! So, make sure you consider all your choices carefully and pick one accordingly - don't forget – it's always best to find something that complements the overall look of your home rather than stands out too much.