What Type Of Material Is The Best For My Accordion Door?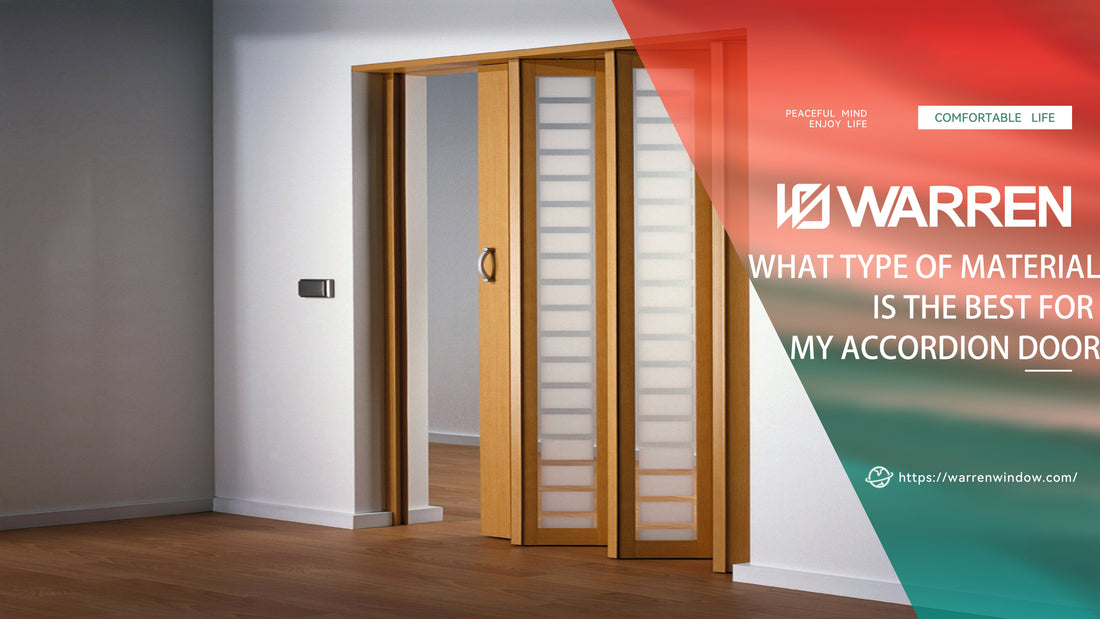 Is there a real advantage to folding doors or accordion doors? You may be thinking about which type of door to choose for your interior when renovating or buying a new house. There are many advantages and benefits to folding doors, and they come in a wide range of shapes and sizes.
Benefits of Accordion Doors
Get Natural Light into Your Home
Bi-fold doors let tons of light into your home whether they're open or closed, transforming a dark room into a livelier space.
Outdoors And Indoors
Unlike conventional sliding doors, bi-fold doors fold completely back, allowing you to feel a sense of freedom without physically being outside. While enjoying your outdoor space, you're comfortable indoors.
Space-Saving
Because bi-fold doors take up so little space, they don't disrupt your home's flow very much. By collapsing back on themselves, bi-fold doors can open up your whole wall, unlike patio doors. 
Easy To Maintain
Keeping bifold doors in good shape doesn't take much elbow grease! As with any window, you just have to clean it every now and then.
Stylish And Luxurious
With their large openings, bifold doors make any home look modern. That, plus the natural light they add, elevates the mood. To match your decor, there's a huge selection of styles, colors, materials, and hardware.
Improved Security
For homeowners, security is one of their biggest concerns. There's a misconception that folding doors aren't as secure as sliding or hinged ones. That's not true! A bifold door has multiple locking points spread over its track. Compared to most doors, this is actually more secure.
Low-Energy
It's easy to control the flow of air and light with accordion doors. You won't need artificial ventilation or air conditioning when these doors are closed. In fact, with accordion doors, you can enjoy a comfortable temperature inside your room while they are opened. 
Economical
It's a very cost-effective alternative to traditional doors, especially when you have a large opening or need many doors at the same time.
Material Options for Accordion Doors
Aluminum
One of the biggest advantages of aluminum bi-fold doors is that they are extremely strong and lightweight. They are easy to maintain and will last for years.
No re-painting is needed because the frames are powder coated. In contrast to wood, this design is less prone to rot and warping. The premium quality materials used in aluminum bi-fold doors are also the reason for their expensive price.
Aside from their strength, aluminum bi-fold doors feature slimmer frames, which allow maximum natural light to flood into your home. However, homeowners have raised concerns over aluminum's poor thermal efficiency as a metal. To reduce thermal energy flow through a bi-fold door, a good quality door will have a 'thermal break'. Through thermal breaks between the frame and the wall, heat is prevented from escaping and cold air is prevented from entering. 
PVC
The best thing about PVC accordion doors is that they're affordable, require little maintenance, and look great. You only have to clean them once a year, so they're a stress-free solution for any property.
PVC accordion doors have slightly larger frames to make them more durable, but overall they look great. Wider applications can cause problems, so they're recommended for narrower apertures.
If you buy good-quality PVC accordion doors from a reputable company, they'll be thermally efficient. You'll probably save money on energy bills if you install it instead of your old patio doors.
In addition to offering a range of styles and colors, PVC windows and doors will complement your existing property's windows and doors.
Plastic
High-quality PVC plastic makes up plastic accordion doors. Accordion doors are great for bathrooms and kitchens because they save space. Some plastic accordion doors have only one wing and fold on one side. A big plastic accordion door opens and closes from both sides. 
A wide range of colors is available for plastic accordion doors. There are a lot of ready-made plastic accordion doors on the market. By removing or adding door panels, you can adjust the heights and widths of these accordion doors. Accordion doors are great for dividing a big room into smaller spaces.
Since plastic accordion doors are lightweight, they're easy to install. The plastic accordion door just needs to be hung on the track.
One downside of plastic accordion doors is that they can't close tightly. Using a "snap-lock closing" device can easily fix it. With this feature, you'll be able to snap the accordion door into the right place so it closes correctly.
Wood
It's the natural look of wooden bi-fold doors that makes them so popular. This kind of door is also sometimes made from engineered wood, which is made by bonding layers of wood together with an adhesive. The moisture inside engineered wood eventually leads to bending, even though it lasts longer than natural wood. On that scale, engineered wood is between aluminum and UPVC in terms of maintenance. That means it's less maintenance-intensive than UPVC but still more maintenance-intensive than aluminum. 
Vinyl
Homeowners also like vinyl bifold doors. Whether you live in a cold or hot climate, these doors look great. You can get vinyl folding doors for a pretty reasonable price. Exterior doors are made from vinyl bifold doors. As an exterior door, vinyl bifold doors are great. 
What makes it the homeowner's choice? Well, vinyl accordion doors are waterproof, and the isolator is of good quality and offers exceptional durability. A vinyl bifold door is an elegant door with the look and feel of wood. One of the best parts is that there is no maintenance hassle! 
OAK
Accordion doors are often made from oak because it's durable, insulating, and long-lasting. Your living space opens up thanks to oak accordion doors that let you access the garden or patio easily.
There's nothing better than connecting your indoors and outdoors with oak accordion doors. There are a few things that make oak special:
A good way to insulate The density of oak makes it thermally efficient, so you can save on energy bills during the winter with oak accordion doors.
Looks different. It looks yellowish-brown. A natural wood tone can complement any type of home interior, which is why oak accordion doors are timeless.
The oak tree is resistant to mold and fungi if it's treated and well-maintained.
The texture.  Medium to coarse is how oak feels.
Accordion doors made out of oak aren't cheap, but they're worth the money. 
Final Thoughts
Folding doors come in a variety of shapes and sizes, and they have a wide range of advantages and benefits, which make them a wonderful choice for many.