Patio doors vs Garden doors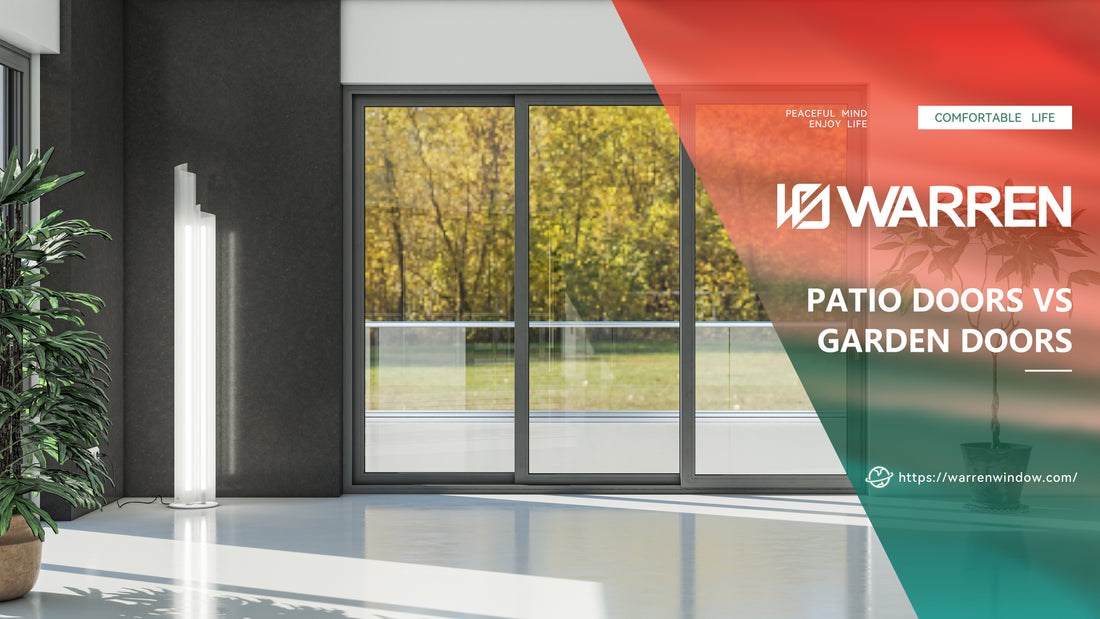 Are you confused about whether to install patio doors vs garden doors? Well, you then have to gather comprehensive knowledge about each and find out which way will work for you. For your convenience, we have come up with a comprehensive guide about patio doors and garden doors with the pros and cons of each. You can read our guide and then decide on your personal preferences and likes. The core of the discussion is not to force someone to make a particular choice. We are entirely leaving it to you.
Sliding door - Pros & Cons
Design and Fashion
Pros
This style has a modern appearance that complements newer home designs.
The sliding doors can be customized to have either 3 or 4 panels.
This product can be made in unique sizes to fit your specific needs.
Sliding screen doors provide full ventilation and extra locking  
Cons
May not match the style of an older home
Only available in solid glass designs
Energy efficiency
Pros
Easy to operate at all times. They are also space saving.
Saves interior space as they slide open.
Cons
Sliding track can be a tripping hazard for unaware individuals
Limited width for taking things in and out due to one fixed door.
Light entrance capabilities  
Pros
A vinyl sliding patio door is a large door that can have double or triple panes. So these doors come with the capability to have more panes and provide you with premium experiences.
Low-E glass coatings have the ability to regulate UV levels and improve energy efficiency in homes.
This allows more light to enter the house than usual. Doors for gardens.
Patio doors offer a clear view of your backyard or property due to their design, which maximizes the glass surface area and ratio of glass to frame.
Cons
Not good if you can't allow light to enter in.
Safety & Privacy
Multiple security options are provided and you have to install more than one lock; it makes it a secure option for everyone.
Patio doors' sliding design enables the use of security bar, upper and lower dead-bolts, and kick locks
Tempered glass discourages break-ins.
Inner mini blinds are optional for privacy and convenience. However, you will have to install them if you are super conscious about your privacy and never want to let the natural light enter in.  
Expenses & Upkeep
Usually cheaper than garden doors.
Requires minimal maintenance
Garden door - Pros & Cons
Craftsmanship and design  
Pros  
Siding can be used both inside and outside of a house to alter its appearance, and it can be modified to fit any design aesthetic. Siding can also be used to add insulation to a house.
This item can be customized in a variety of ways, including colors, frames, finishes, materials, and even how the hinge swings.
You have the option of going with a French Door design, which features two operable doors, or a Centered Patio door arrangement, which features one operable door and one fixed door.
Sliding doors typically come equipped with inside screens from the manufacturer to improve ventilation.
It is much simpler to move objects in and out of the house when double doors are used instead of patio doors due to the greater aperture that double doors offer.
Garden doors can have a pet door added for pet owners. The use of a sill rather than a track lowers the likelihood of an accident occurring due to tripping.
It is possible to design a variety of door arrangements.
Cons
There are not many options available on the screen.
The door must have space on either the inside or the outside for it to swing open.
The door's width and height must conform to the industry standard.
The effective management of energy
Pros
Garden doors made of steel and wood lose heat faster than Vinyl Sliding Patio doors. Glass choices almost seldom come with triple-paned windows because they are typically only available with double-paned ones.
An advantage is that there is a wide variety of glass alternatives available (including tints, stained glass, and privacy glass, among others).
Cons
Due to the higher frame needs of garden doors, the amount of visible light that can enter a property is reduced when compared to patio doors.
Choices Regarding Privacy
Pros
Inserts for glass mini blinds that provide privacy
Garden doors that can be customized and come with a variety of privacy glass options such as etched, coated, grilled, or stained glass.
The lack of a strong central support makes French garden doors a less secure option than other types of doors.
Cons
Garden doors, as opposed to sliding patio doors, typically only have one lock, making them less secure than the latter.
Even though multi-locking mechanisms are available, which provide an additional layer of protection, they can be expensive and challenging to operate.
Expenses & upkeep
Pros
Constructed with long-lasting materials that are resistant to rust and corrosion, allowing for extended use.
Cons
In comparison to sliding doors, swinging doors often come at a more expensive price point.
Conclusion
Both patio doors and garden doors have their unique features and benefits, making them a popular choice for homeowners who want to enhance the beauty and functionality of their homes.
Patio doors are known for their sliding mechanism, which allows for easy access and space-saving benefits. They also come in a wide range of styles and materials, from traditional to contemporary designs, and are ideal for areas with limited space or where there is a need to maximize natural light.
On the other hand, garden doors typically have a hinged design, providing a wider opening and more flexibility in terms of hardware and locking options. They are also available in various materials, such as wood, fiberglass, and steel, making them ideal for homeowners who prioritize security and durability.
Ultimately, the choice between patio doors and garden doors will depend on your personal preferences, budget, and the specific requirements of your home. By weighing the advantages and disadvantages of both options, you can make an informed decision and choose the door that best fits your needs.