How to Choose the Perfect Pergola Dimensions?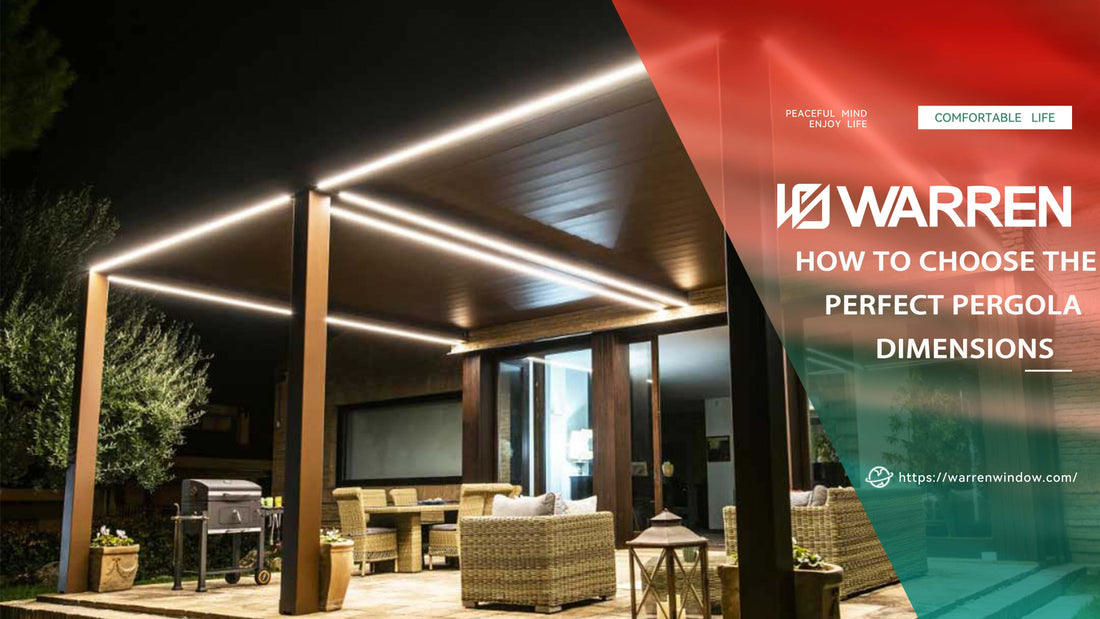 Everyone loves to add extra charm to their yards. It is possible with a pergola installation. However, it is important to understand the perfect pergola dimensions. Thus, if you expect to maintain everything in a perfect manner, you should know how to choose the perfect pergola dimensions. It will help you to decorate your yard in the way you want. You will love the perfection and elegance that the knowledge of pergola dimensions will give to your yard.  
So let's dive deep and see what this guide about choosing the perfect pergola dimensions wants to convey to the common people who do not have enough knowledge about it.
| | | |
| --- | --- | --- |
| Width | Height | Size |
| 8 | 8, 10 | 8x8, 8x10 |
| 10 | 10, 12, 13, 14, 20 | 10x10, 10x12, 10x13, 10x14, 10x20 |
| 12 | 12, 14, 16, 20 | 12x12, 12x14, 12x16, 12x20 |
| 16 | 16 | 16x16 |
| 20 | 20 | 20x20 |
What is the average size of a pergola?
Knowing the average size of the pergola will give you an idea of how much space you should leave in your yard for pergola installation. Various estimates show that 3x3 meter or 144 square feet are the right average size.
While some pergolas serve solely as ornamental elements, others are utilized as full-fledged outdoor rooms complete with couches, tables, and even kitchens. Pergolas may be as little as a few feet in length or breadth, or as large as a couple of dozen feet in any direction. Ultimately, the size of a pergola will be determined by a number of elements, including as its intended use, the amount of available space, and the builder's or homeowner's personal tastes.
How to measure a pergola?
You'll need a measuring tape and, ideally, a partner to measure a pergola. Measure the space where the pergola will be installed length and breadth-first. Next, decide how tall you want the pergola to be and take a measurement from the bottom to the top of the pergola. Be careful to take into consideration any slopes or uneven terrain, as well as any barriers or other characteristics that can affect the pergola's location or size.
What is the average height of a pergola?
There is a wide range of potential heights for pergolas due to the variety of forms and purposes available. The typical height of a pergola is anywhere between 10 and 12 feet. Because of the building's vertical size, there will be plenty of space for people to move about and work below the structure. In addition, the height of the ceiling enables the suspension of ornamental components such as hanging plants in the space.
It is also important to note that the pergolas of 12 ft height are the most common ones.
Is there a height restriction on pergola placement?
In most cases, the installation location of a pergola is not restricted in any particular way due to the height of the structure. Despite this, local building codes and regulations may impose height restrictions or other requirements on buildings that are built in outdoor settings. These requirements and restrictions may be either absolute or relative. It is essential to check with the local building authorities in order to ensure that your pergola conforms to all applicable laws and regulations. These may include restrictions on the permitted size, height, and placement of the structure.
How wide should a pergola be?
The dimensions of a pergola may differ based on the intended purpose and the space that is accessible. Typically, it is recommended that the width of a pergola should be spacious to fit the furniture, plants, or any other elements that you intend to utilize or showcase beneath it. Typically, a pergola is designed with a width ranging from 8 to 12 feet, but the size can be adjusted based on individual requirements and choices.
What is the ideal size for a pergola?
There is no one-size-fits-all strategy when it comes to choosing the ideal size for a pergola.
What is the standard size for a roof overhang on a pergola?
The dimensions of a pergola's roof overhang are subject to variation based on the pergola's intended use and design. Typically, it is recommended to have an overhang ranging from 6 to 18 inches, with the most popular being a 12-inch overhang. The dimensions of this structure offer ample coverage from the sun and other weather conditions, all while allowing for a refreshing breeze to flow through.
What is the standard spacing for pergola posts?
The spacing of pergola posts typically differs based on the pergola's size and design. Typically, it is recommended to maintain a distance of 8 to 10 feet between posts. In case the pergola is of considerable size or is intended to bear substantial weight, it might require a more frequent post-placement. For ensuring stability, it is recommended to place the posts in concrete footings that are at least 18 inches deep.
Can a pergola be higher than a fence?
There are no strict limitations on the height of pergolas, unlike fences, which are subject to height restrictions. Therefore, it is possible for a pergola to be taller than a fence. It's crucial to take into account the neighboring environment and any relevant laws or regulations. A pergola that exceeds a certain height may necessitate a permit in certain circumstances.
What is the standard size for a roof overhang on a pergola?
The standard size and overall height of the roof within your pergola will be set by its size and the way it was designed. It is best practice to check that the height of the structure is enough to enable people to walk under it without having to bend their heads or strain their necks since this is the most common recommendation.
As you have studied pergola dimensions in detail, it is now very easy for you to choose the right dimensions and end up with the proper adjustment of the pergola. However, taking professional help is also not a bad idea because there is always a chance of mistakes when you do not have any experience and you try to measure the dimensions on your own. Whatever you do, make sure you do it right.