What is the Common Type and Materials of Exterior Door?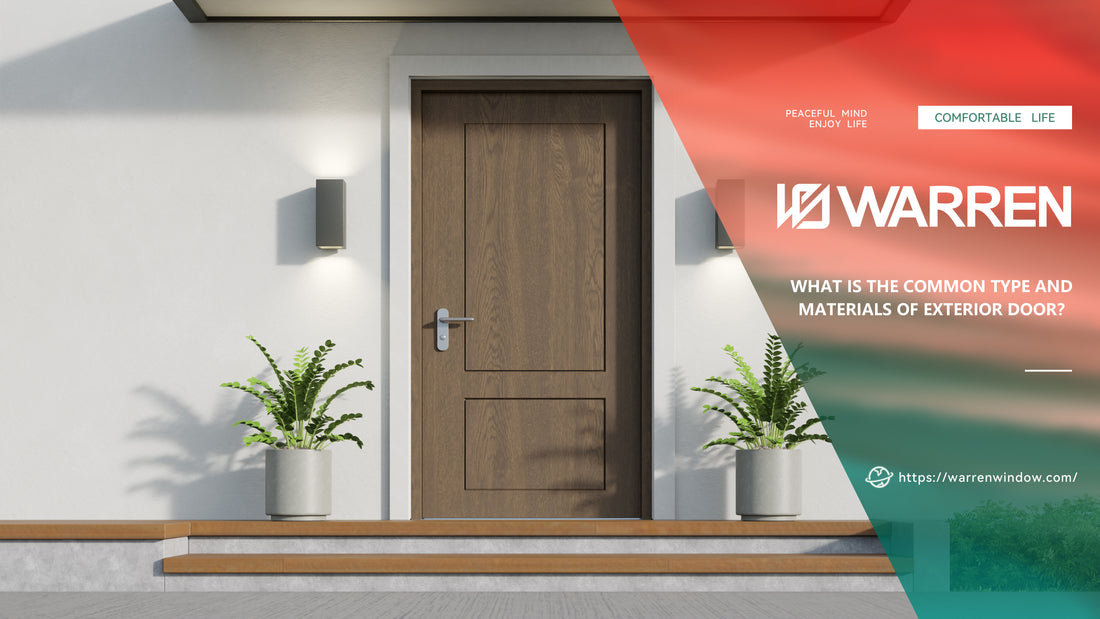 Are you considering replacing your exterior door? It's an important decision for any homeowner, as the front entrance to your home should make a statement about who you are and be sure to keep both climate and intruders at bay. With so many options available on the market, it can seem daunting to know where to start - from types of external doors and materials used in construction to frames and security features.
Understanding what's available will help take some of the guesswork out of this decision-making process. In this blog post, we'll explore the common type and materials used for exterior doors so that you can learn more before making an informed purchase!
The Most Common Door Materials
Exterior doors come in a variety of materials to suit different needs and budgets. The most common material types are wood, steel, fiberglass, and aluminum/vinyl.
Wood Doors: Wood is the most traditional choice for exterior doors. It offers excellent insulation properties, making it an energy-efficient option for homes in colder climates. It can be painted or stained to match the home's overall look and feel and is available in various designs. The downside to wood doors is that they require regular maintenance such as sanding and painting/staining every few years.
Steel Doors:Steel exterior doors are more durable than wood and require less maintenance over time. They also offer better insulation but are not as visually appealing as wood. Steel doors come in a variety of designs and can be painted to match your home's style.
Fiberglass Doors: Fiberglass exterior doors have become increasingly popular over the past few years due to their long-lasting durability and energy efficiency. They are available in both smooth and textured finishes and come in a range of styles and designs. Fiberglass doors are also low-maintenance and don't require painting or staining.
Aluminum/Vinyl Doors:These doors are made from aluminum or vinyl frames with glass panels, making them great for letting in natural light while maintaining security. They are lightweight and affordable, but may not offer the same insulation qualities as wood, steel, or fiberglass. Aluminum/vinyl doors are available in a variety of styles and designs.
No matter what material you choose for your exterior door, make sure it is installed properly and meets all safety requirements. Consider consulting with a professional installer to ensure that your new door is up to code. This will ensure that your new door is secure and offers the best protection for your home.
Less Common Door Materials
In addition to the more common types of materials used for exterior doors such as wood, fiberglass, and steel, there are some less conventional but still viable options. For instance, aluminum is a lightweight metal that is often used in contemporary designs; however, it can be costly and requires special maintenance due to its tendency to corrode over time. Vinyl is another option that is affordable, durable, and does not require painting; however, it can be prone to cracking in extreme temperatures.
Glass doors are becoming increasingly popular for their aesthetic appeal and natural light-filled benefits. While they may not provide the same level of security as other materials, they can be designed with tempered glass and additional locks to help prevent break-ins. Ultimately, whatever material is chosen, it is important to consider the overall climate and environmental conditions of the area when making a selection. Regardless of your choice, an exterior door can add value, curb appeal, and security to any home.
Exterior Door Types and Materials
There are many different types of exterior doors available, each with its unique characteristics and benefits. Here are some common types of exterior doors:
Front Entry Doors: These doors are typically the main entrance to a house and come in a variety of materials, such as wood, steel, and fiberglass. Front entry doors can be designed to fit any style of home, from traditional to modern.
French Doors:French doors are made of two separate doors that swing open from the middle, allowing for a wide opening to the outdoors. They are usually made of wood or vinyl and can be hinged or sliding.
Sliding Doors:Sliding doors are a popular choice for patios and decks. They slide open horizontally and can be made of wood, vinyl, or aluminum.
Dutch Doors: Dutch doors are divided horizontally so that the top and bottom can be opened independently of each other. They are often used in kitchens or as a backdoor to a garden.
Pivot Doors: Pivot doors rotate on a central hinge, allowing for a dramatic entrance to a home. They can be made of wood, metal, or glass and are often used in modern architectural designs.
Storm Doors: Storm doors are designed to be installed in front of an exterior door to provide extra insulation and protection from the elements. They can be made of wood, aluminum, or vinyl.
Bi-Fold Doors: Bi-fold doors fold in on themselves to create a wide opening. They are often used for closets or as room dividers, but can also be used as exterior doors.
Garage Doors:Garage doors are typically made of metal or wood and provide access to a garage. They can be manual or automatic and come in a variety of styles and designs.
Hire a Quality Door Contractor
When it comes to exterior doors, quality matters. They provide a barrier between your home and the outside environment, so make sure you hire a door contractor who knows what they're doing. Before selecting any contractor, be sure to ask questions about their experience with installing exterior doors and the materials they use.
It is important to choose a contractor who specializes in exterior doors and is familiar with the common types and materials. Wood, fiberglass, steel, and composite doors are all popular options. Each material has its advantages and disadvantages when it comes to cost, security, insulation, durability, and maintenance. A quality door contractor should be able to help you decide which type and material is best for your home.
When you hire a door contractor, be sure to get several price quotes and check the contractor's references. A good way to find experienced professionals in your area is to search online or ask friends, family, and neighbors for recommendations.