Why Import Windows and Doors from China?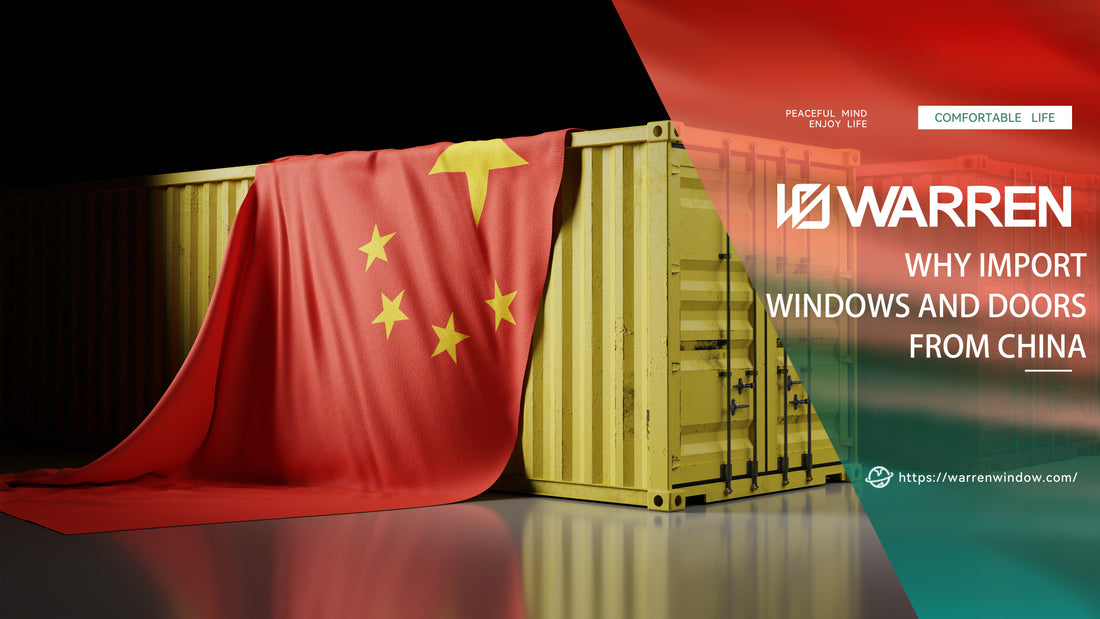 When you invest money in developing a top-notch structure, you also pay attention to the quality of the materials you utilize. Exceptional quality is also required for the doors and windows. You should pay close attention to the source of your purchases. Any local vendor can be your first choice when purchasing windows and doors. Would you purchase high-quality goods from a local vendor? You might be concerned about quality assurance, expert design, or high cost, so just think about importing from China.
Benefits of Importing from China
Some of the most popular Chinese goods bought worldwide are windows and doors. You merely want to purchase top-notch goods because they are a crucial component of the building. Plus, it would be great if they didn't take a big chunk out of your money.
There are some key suggestions one should be keeping in mind:
1) Cheaper with high quality
China has very sophisticated industrial methods. Similar to other nations, it is capable of producing high-quality doors and windows. However, you can buy the goods for less money because of its sophisticated production techniques. The Chinese government offers free land to manufacturers or subsidizes their rent. Chinese manufacturers enter the global market as a result, mass-produce their goods, and compete there at low prices.
2) A range of styles and designs
You have many possibilities because China has a wide range of designs, good quality, and affordable products. China offers a wide range of architectural ideas for both residential and commercial buildings. Every technical detail, after all, takes into account a more general point, and only by understanding the specifics of the design can we have a broader performance edge.
3) Best possible Quality control
China's leading manufacturers guarantee you quality. Manufacturers are aware of how unsettling it may be to make purchases online, therefore they offer quality assurance for each product to soothe customers' fears. China produces doors and windows of an equal, if not superior, caliber to those produced elsewhere in the world. Chinese producers adhere strictly to national and international moral standards for quality control.
4) Easy to assemble
The simplicity of window assembly and installation will vary depending on the design and manufacturing method. When technology and automation are used in the design and production process, all pieces are precisely made to fit the proper spot. Chinese goods are subject to this. Precise measurements are acquired, and state-of-the-art equipment is used to complete the woodwork. There may also be an installation and assembly manual provided.
5) Ideal Investment
Windows and doors made in China are durable and affordable. If you hire them for your house or office building, you could be able to rely on them for decades, if not a lifetime.
6) Energy-Efficient Technology
China's window, door, and panel industries have benefited enormously from the continual development of materials by Chinese scientists that meet technological criteria including energy efficiency, environmental protection, and fireproofing throughout the years. Energy-saving doors, windows, and technologies are in high demand because nations around the world have recently made a commitment to applying new building techniques, materials, and goods while giving increased consideration to energy efficiency, environmental protection, and the safety and comfort of structures.
7) Backed by International Warranty
Long warranty and excellent post-sale support. Numerous Chinese producers hold full certifications such as the "AS2047/NZS4211/AAMA/NFRC Standard", Florida Product Approval, and Miami-Dade County Approved.
8) Unlimited Variety
If you purchase your doors and windows from China, you can choose from a variety of various material alternatives. What kind of material do you prefer for your doors and windows? You can find whatever kind you want there, I suppose.
9) Large transportation cost savings
China is one of the nations that UPU has identified as being in transition. International shipping costs are set by UPU. For instance, shipping to the US from China is less expensive than moving within the US. As a result, although importers must pay some import taxes and freight, they can still save more than 50%, and in some cases, 300%, on costs like kitchen cabinets. China and other nations have established strong shipping linkages. This enables merchandise to be transported from China to the rest of the world by air or sea which is cost-efficient and time-saving as well.
Globally Recognized
From China, sales of windows and doors are anticipated to increase 18.1% annually to 1270 billion yuan in 2022. Gains will be primarily driven by robust expansion in both residential and nonresidential construction that has shown the acceptance of Chinese doors and windows across the globe.

China is currently the world's top consumer and supplier of building doors, windows, and panels. Currently, there are over 10.8 million industrial workers in China's building of doors, windows, and facades.

There are currently between 13 and 15 billion square meters of windows and doors in process in China. The total area is estimated to be between 1.5 and 1.8 billion square meters.
Conclusion
China is a high-tech industrialized nation with a large number of window and door production companies. You would be best served by importing windows and doors from China, whether you are a contractor or a business owner. It offers certain benefits. China is a well-liked market for many styles and types of windows and doors. These items can be purchased for your building while staying within your budget. Among them, Chinese-style windows and doors will have special design advantages, and their aesthetics and ornamental organization will also be greatly enhanced. The spirit of Chinese design can be reflected in inventive craftsmanship and distinctive textural details. Only in this way can it be observed that Chinese doors and windows will have designs that are more innovative and have more advantages and highlights. As a result, it visually draws in more clients to place orders, helping to increase sales in the door and window industry. These doors and windows are very well known. This is another technical trait used in the construction of Chinese doors and windows.