How To Find The Best Soundproof Window For Your Home?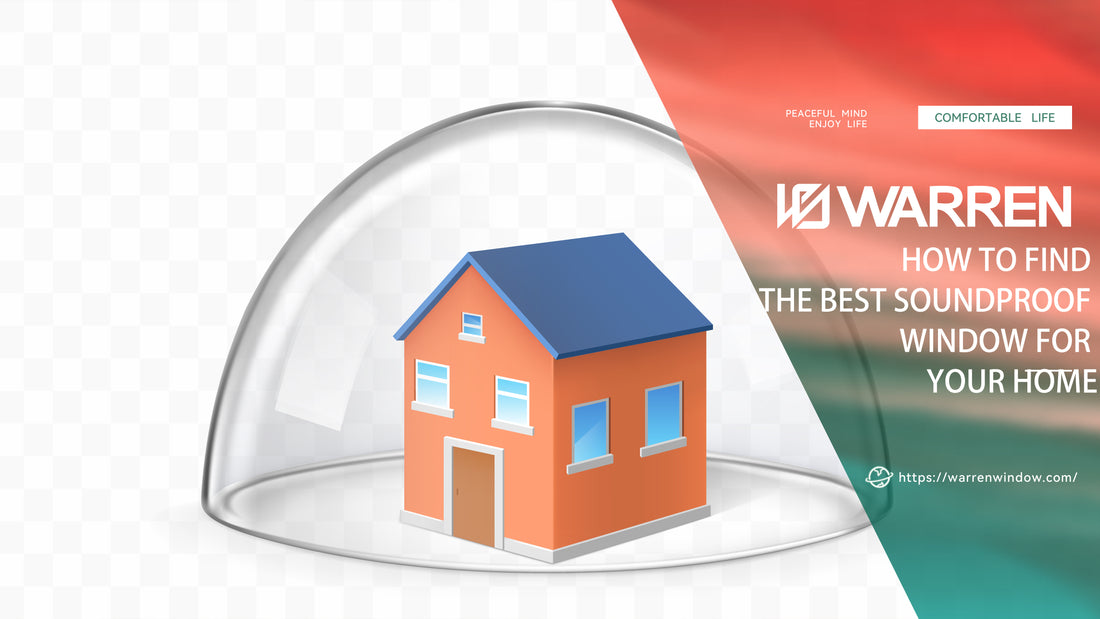 When it comes to home improvement, the windows are one of the most important parts of your house that you should be investing in. If you're looking for a way to update your home and make it look more modern and stylish, window replacements are the perfect option. But, what exactly are some good reasons why you should invest in a new soundproof window?
Soundproof windows are a great way to reduce the amount of noise that enters your home or office. With the right materials and installation, soundproof windows can drastically reduce outside noise while also improving energy efficiency. There are several types of soundproof windows available, each offering different levels of insulation and acoustic performance. Let's know more about finding the best soundproof window for your home in this article.
What Are The Best Soundproof Windows?
Soundproof windows are a great way to reduce noise in your home or office. They can help block out the sounds of traffic, construction, and other outside noises. With so many different types of soundproof windows available, it can be hard to know which one is best for you. Here are the five best soundproof window types.
1) Double Hung Windows
These windows are made of two pieces of wood held together by a metal strip. They slide up and down to open and close the window. This is a very common type of window, especially for those who want something simple and easy to install. With double-hung windows, many people can get the same look without having to worry about custom installations or being able to afford it within their budget.
2) Casement Window
This window has one piece of wood that slides up for the opening and three pieces that slide down for closing the window. They come in either vertical or horizontal sliding models, depending on your preference. The casement style looks great for those who like the classic style with a window that opens straight out or slants to the right.
3) Awning Window
These windows are wider than their casement counterparts and slide in a horizontal direction. They look perfect for those who want something more modern with the added benefit of being able to open and close easily by sliding them up and down on a track system that is attached to the window itself. This style is also easier on your wallet, as it costs less than other windows because it saves you money when you don't need special tools or skills in order to install it.
How To Soundproof Windows?
Fortunately, there are several ways to soundproof windows and reduce the amount of noise entering your home. From installing curtains to using acoustic sealants, here are three easy steps to help you soundproof windows in your home for a better peace.
1) Drape Curtains
One of the easiest ways to soundproof windows in your home is by simply draping curtains. By using curtains, you can block outside noise and generate a nicer ambiance for your home. Curtains are also less expensive than other soundproofing methods and provide a wide range of benefits, including protection from heat and light.
2) Install Acoustic Sealants
Another simple way to soundproof windows in your home is by installing acoustic sealants (silicone spray). Acoustic sealant is an easy-to-install DIY product that creates an airtight seal around the room and dampens any outside noise. Silicone spray also preserves the life of windowpanes and keeps them from cracking and warping over time, so it's worth considering this option if you're considering window replacement in the near future.
3) Install Interior Room Insulation
Soundproofing windows can be difficult to achieve without sacrificing major home improvements. If you're going to have to do some work on your windows, you might as well do some work on your interior room insulation too. Installing interior room insulation will absorb sound waves, which makes it easy to soften sound that would otherwise loudly penetrate through your walls and floorboards.
Laminated Windows - How Do They Block Noise?
Laminated windows provide a great way to limit the amount of sound that enters or leaves your home or office. The multiple layers of glass and plastic create an acoustic barrier that helps to dampen external noise. Laminated windows also help reduce energy costs by providing an extra layer of insulation, and the unique construction ensures durability for long-term use.
Does Triple Pane Glass Reduce Noise?
Triple-pane glass is an effective solution for reducing noise from the outside. It is made of three panes of glass with two layers of air between them, providing superior insulation against external noise. This type of glass also helps reduce energy costs by keeping cool air in during the summer and warm air in during the winter. Triple pane glass is an excellent choice for those who want to reduce external noise and create a more peaceful living environment.
Other Options: Reduce Outside Noise
Every day, we are constantly bombarded by outside noise from traffic, construction, and other sources that can make it difficult to concentrate on important tasks. Fortunately, there are some simple solutions to reducing these distractions. You can
Invest in noise-canceling headphones or earplugs,
Install soundproofing materials in your home or office space, or even
Take advantage of natural soundscapes such as waterfalls or birdsong.
All of these methods can help you focus and remain productive in any environment.
Final Verdict  
Soundproofing window is an important part of creating a peaceful and comfortable space. Windows can be a major source of sound pollution, with outside noises intruding into your property and causing disruption. When you use soundproof windows, you can maintain your privacy and can easily work and pay attention to your tasks. Whether you want to install this Windows in your office, home, or home-based office, you won't face any external interruption and the fear of being watched by someone or anything that can harm your privacy.