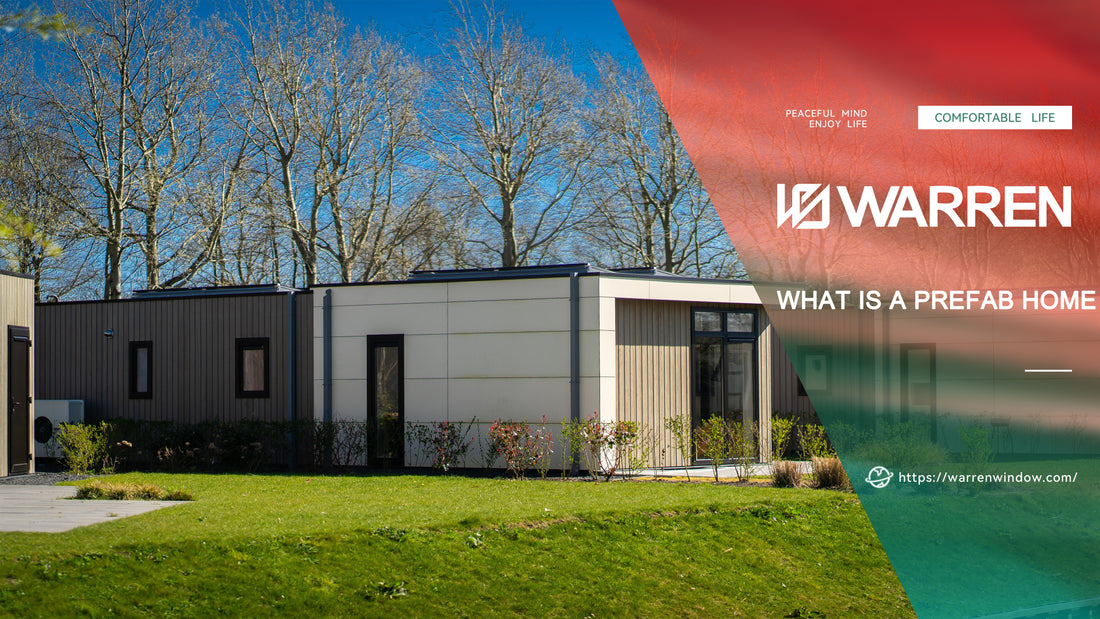 Prefabrication is not a new concept. It's not something that appeared out of nowhere. There is a long history of prefab homes in the United States. The troubling environmental factors and rising construction costs have made prefab homes an appealing option.
What Are Prefab Homes?
Prefab homes, also known as prefabricated homes or modular homes, are an innovative housing solution that has gained popularity in recent years. These homes are built off-site in a factory setting, where various components are manufactured. Once the components are ready, they are transported to the desired location and assembled on-site. Most of the work is already completed on the lot, though some finishing touches will be needed for assembly. 
Types of Prefab homes
Beyond their practicality, prefab homes come in various types, each with its own unique characteristics and benefits. Let's delve into the different types of prefab homes. 
Mobile Homes
Historically, mobile homes were prefabricated houses built before 1976. As a result of World War II, cheap, movable housing was mass produced, and specifications were not closely monitored. 
Manufactured Homes
Manufacturers offer a wide selection of styles, features, and customization options in manufactured homes today. Single, double, and triple sections are the most common sizes for manufactured homes.
There are several types of foundations available for these homes, including pier and beam, permanent foundations, crawl spaces, and basements. Provided that a manufactured home contains a pier and beam foundation it can be moved by a contractor with expertise in moving manufactured homes. 
Modular Homes
A modular home can be built inside, but it won't meet HUD codes. As with an on-site built home, modular homes follow state, local, and regional building codes based on where they're built. There are different codes for every state, city, and county. They influence two factors: 
i) Roof's look and style 
ii) The kind of foundation the house should have.
Cross Mod
The new HUD code category includes these types of homes. The prerequisites for this innovative home include a permanent foundation, internal drywall, a higher pitched roof, and a covered porch, garage, or carport. It also combines off-site built construction with contemporary site-made home aesthetics. CrossMod homes have the same looks and feel as traditional site-built homes, but offer better value due to efficiencies. 
What is the Average Price of a Prefab home?
Prefab homes typically cost between $80 and $120 per square foot. Depending on your budget, you can build a 1,600-square-foot prefabricated home for $128,000–192,000.
An 1800-square-foot prefab house costs between $144,000 and 216,000, and a 2600-square-foot prefab house costs between $160,00 and 240,000. These prices are for the house alone and do not include land.
Prefab homes are generally more affordable than stick-built homes, which usually begin at $150 per square foot. Prefabricated homes vary considerably in price depending on their size, complexity, and level of customization.
Prefabricated homes do not include land costs. You must purchase the land, and local zoning laws must be researched to see what type of building is permitted there.
Landscape work, including driveway installation, will also need to be done on your own. Furthermore, modular homes are not priced with a foundation included.
In addition, the price does not include stairs from the basement to the main floor or utility connections. The price does not include appliances you may need, such as air conditioners, washers and dryers, furnaces, ovens, etc. If you are planning to build a prefab home, you must incorporate all of these features into your pricing calculation. 
Would A Prefab Home Work For Me?
In order to decide whether a prefab home will work well for you, you should consider its pros and cons. That'll help you make the right decision. 
Pros
Efficiency at Its Best
The energy efficiency of prefab homes is one of their main advantages. Heat is kept in by tight seams and energy-saving windows. Natural disasters can't damage modular homes thanks to their tight construction. Modular homes require a foundation just like conventional homes. For people who desire homes with a lower environmental impact than the usual American neighborhood home, they can be luxurious, contemporary, and exquisite.
Building Fast
Prefab homes are fast to build. As prefab homes come ready to assemble, all you need to do is connect the utilities and assemble the parts. Modular prefabs are quicker to build because they arrive partially built. The construction process will be more efficient and less vulnerable to delays caused by weather and illnesses. However, construction time isn't the only factor to consider. Permitting and site preparation can be time-consuming.
Economical
Prefab homes are generally cheaper than stick-built homes, as labor contributes to the savings. The prefab moves in fewer days with fewer workers which is very cost-efficient. Furthermore, prefabs tend to have lower heating and cooling costs. Compared to the cost of building a prefab, compare the cost of buying an existing home. The level of customization and fittings will also affect the cost. Find out what cost-saving strategies the manufacturer offers.
Cons
Land Costs
Building a prefabricated home requires land. This implies that, unless you have some extra land hanging around, you'll need to spend more money to find suitable land. You'll need to check that the land you're buying can be developed. Someone must level the ground, for instance, if it isn't level.
More Time to Move In
Given that stick-built homes take longer to build than prefabs, it's usually preferable to buy an existing home if you need to relocate quickly. Buying an already-constructed house is almost always more convenient than building a prefab house.
A few Customized options
Although prefabricated homes have fewer options, they can't be customized in the same way as stick-built homes. When it comes to traditional homes, the possibilities are practically endless. The manufacturer's offerings are basically limited to prefabs.
Final Thoughts
Prefab homes have emerged as a practical and sustainable housing solution for those seeking affordability, efficiency, and design flexibility. With their numerous benefits and increasing popularity, prefab homes are likely to play a significant role in the future of the housing industry. As more individuals and families embrace this innovative approach to homeownership, prefab homes are set to reshape the way we build and live in our homes.