The Do's and Don'ts of Vinyl Window Care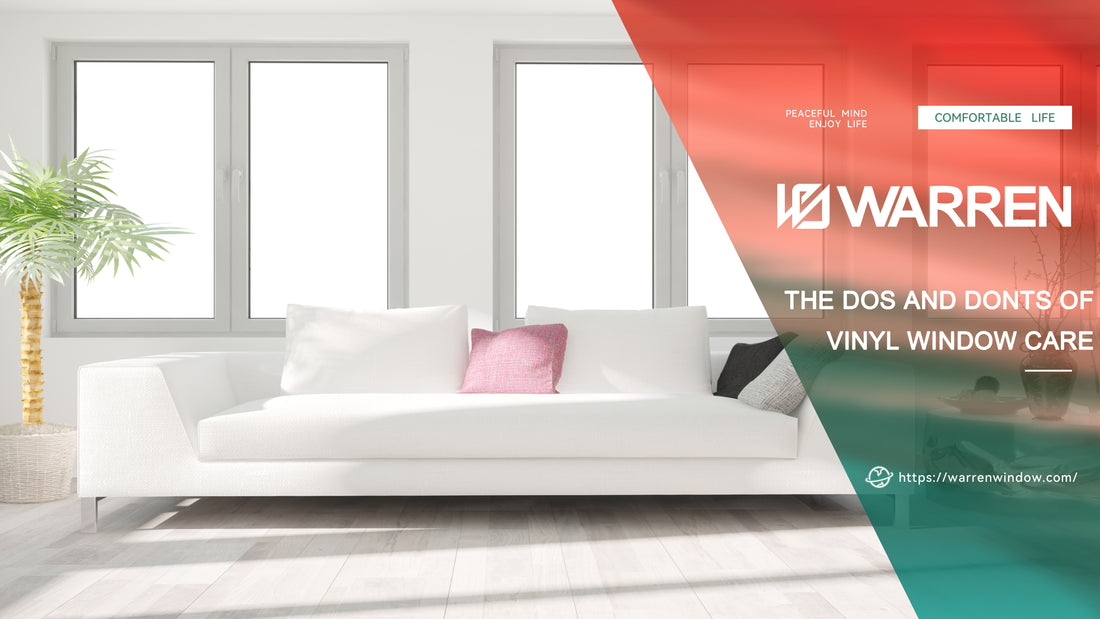 A few good tips can do wonders. There is always a right way to do things, and today you will get to know the do's and don'ts of vinyl window care. Glistening surfaces of your house interiors is a surefire way to hear the 'Ooh's' and 'Ahh!'s from impressed visitors. However, you do need to be cautious of the chemicals you are dealing with, or if your window is at a dangerous height. Call an expert or a helper guy, because safety is above all. So let's dive into just how well you can clean up your windows by following certain advice and taking heed of the things you need to avoid. 
Things you should do
What the Weather Says, Goes
The best time of the day to clean your window is whenever the sun is not at its peak or burning too bright on your window screen. This is because the cleaning solution may dry too quickly and leave streaks and smudges. So instead of having a cleaner window, you'll be facing the penalty of a careless cleaning routine.
The Right Kinda Tools
Make sure you have the right equipment for the job. To get a streak-free shine, try using a delicate, lint-free microfiber towel or a squeegee with a rubberized blade. To reach nooks and edges, use a toothbrush or soft-bristled brush.
Don't Fall!
You have got to make sure that you're safe before getting down on any cleaning business. To reach higher windows without taking a risky climb, safely arrange a secure ladder or make use of an extension pole with the window cleaning attachment.
Tactics Coming Handy
Using a dry cloth or brush, start by removing any loose dirt and debris. Next, gently wipe the window with a moist cloth or sponge after dampening it in the cleaning solution. To guarantee thorough cleaning, divide your window into parts and start small.
Go With Gentle Solutions
Gently hose off the whole frame and window before cleaning the glass (avoid mechanical washers). Warm water, plus mild detergent mixed often resolves the problem. Avoid using strong chemicals that could damage window frames and are harmful to the environment. Using a clean, soft cloth, sponge, or brush with soft bristles, start at the top of your window and proceed to work your way down. Make sure you give it a nice, good rinse once you're done.
Getting Rid of Streaks
Immediately wipe away extra cleaning solution to prevent unattractive streaks. Start at the top and work your way down using a sponge or a freshly washed, dry microfiber pad in a smooth, continuous motion. To stop dirt from spreading from one area to another, regularly clean the squeegee or cloth.
Here It Gets Tricky…
Window tracks as well as frames shouldn't be disregarded. Over time, they may gather filth and dirt. For the tracks, use a vacuum cleaner with a brush head to remove any loose material. After that, lightly scrape the tracks and frames using a cloth dampened with your cleaning solution. Finally, dry them off with a different cloth.
Things you shouldn't do
Here are all the things you should try to be mindful of when cleaning your windows. It may sound like a tiring job for a lot of us, but to safely and efficiently get done with it, it is important to take these tips into account. 
Don't Shrug Off The Safety Protocols
Yes, accidents happen. But accidents can be prevented by certain measures that you have got to take at all costs. We care about your well-being. When washing windows, particularly when working at heights, never compromise on safety. Avoid bending right out the window or even leaning far off from your ladder to reach the corner spots. For high or difficult-to-reach windows, use robust ladders and extension poles, or think about hiring specialists.
Beware Temperature Extremes
When cleaning, stay out of the sun and out of extreme heat or cold. Cleansers will dry up too rapidly in hot conditions and leave a soapy residue. The windows will dry too slowly in cold weather, producing streaks. The hot weather would make you , and that would just ruin your whole cleaning mood. 
Stay Well Away From the Power Washer!
For washing external surfaces like decks, pavements, or siding, power washers may be exceptionally strong (too strong — aggressively strong, one might say). Power washers produce extremely high water pressure, which can shatter glass, and window frameworks, as well as drive water into your house when cleaning windows. It is recommended to stick with more gentle cleaning techniques. 
Avoid the Windex Shortcut
On vinyl windows, stay away from home glass cleaners like Windex. Ammonia or other substances that might eventually break down the vinyl substance is among these abrasive components. Use only gentle cleaners designed especially for vinyl surfaces.
Say No to Harmful Solvents
Keep a keen eye out for 'Ingredients' when using solvent-containing cleaning products like grease remover, chlorine-based bleach, caustic soaps, and detergents since they can harm surfaces and turn white frames yellow. They may also have skin reactions that can lead to second or third-degree burns. 
Let's Put Down the Sharpest Tools
Razor blades can help scrape off tough paint or residue from glass surfaces, but they must be used carefully to prevent scratching or other damage. The window's integrity may be compromised, permanent markings may be left on it, and you could get injured if you don't use the razor blades with care. It's best to hand over the use of razors for window cleaning to experts or people who have received training in doing so.
Leave the newspaper trick out
Contrary to common assumptions, newspapers may in fact leave ink residues on glass after cleaning windows, preventing a streak-free sheen. Use a squeegee or lint-free microfiber towel as an alternative. Those always tend to work just fine. It's a bit more money on the equipment, but the result is crystal clear (pun intended). 
Conclusion
Whether you are a newbie vinyl window cleaner who needs a crash course on vinyl window cleaning, or a professional that needs a little reminding, now you know what is up. If you take these instructions as Gospel, not only will you have squeaky clean vinyl windows that look as good as new, but you would have come out of this tedious job unscathed.