Guide of Exterior French Doors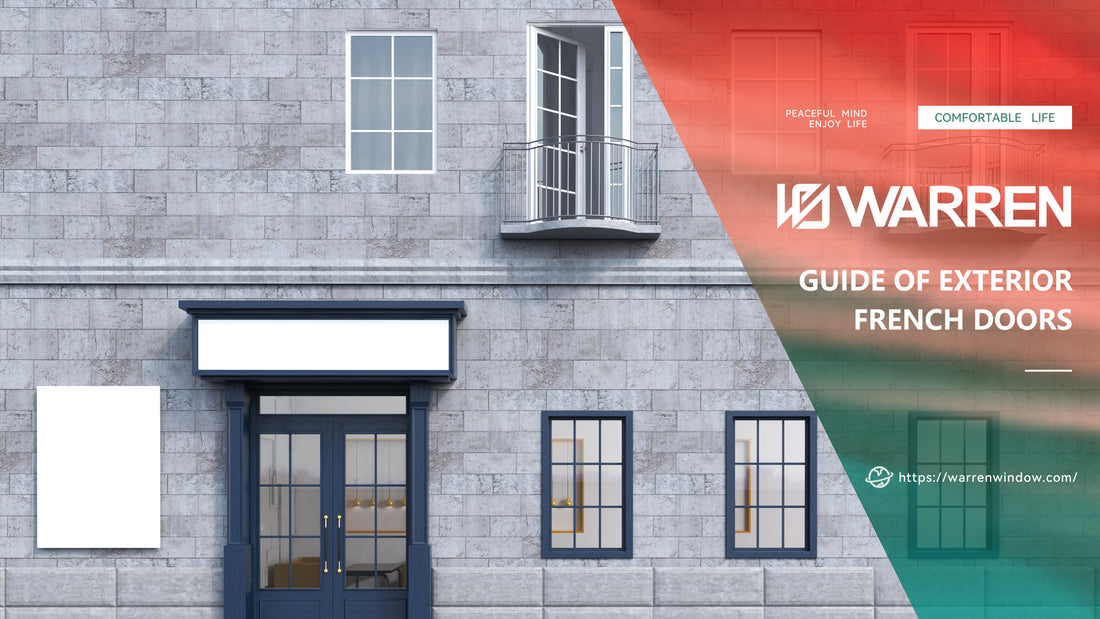 When it comes to creating an elegant and classic look for your home's exterior, French doors are a perfect choice.
French doors provide a beautiful way to merge the outdoor and indoor living spaces, bringing in more natural light and fresh air into your home.
However, choosing the right exterior French door can be challenging, given the many options available in the market. That's why we've put together this guide to help you select the best exterior French door for your home.
Common Size:
Types of French Doors
Before purchasing an exterior French door, it is essential to understand the different types of French doors available in the market. These include:
Hinged French doors:These are the most common type of French doors, also referred to as swinging French doors. Hinged French doors operate similarly to traditional doors and swing open on hinges.
Sliding French doors:These are a modern type of French doors that slide along tracks. They are ideal for smaller spaces and homes with limited space.
Bi-folding French doors:These doors are similar to sliding French doors, except they fold instead of sliding. They are perfect for larger spaces and offer a wider opening than hinged or sliding French doors.
Energy-Efficient French Door Materials:
When choosing an exterior French door, it is crucial to consider the energy efficiency of the materials used in their construction. Here are the most energy-efficient materials for exterior French doors:
Fiberglass:This material offers superior insulation, durability, and energy efficiency. Fiberglass French doors can withstand extreme weather conditions and resist dents, scratches, and corrosion.
Vinyl:Vinyl French doors are an affordable and energy-efficient option. They require minimal maintenance and are available in various styles and colors.
Wood:Wood French doors are aesthetically pleasing and provide excellent insulation. However, they require regular maintenance and may not be the best option for areas with extreme weather conditions.
How to Secure French Doors:
French doors are known for their elegant design, but they can also be a security risk. Here are some tips on how to secure your French doors:
Install deadbolts: Adding a deadbolt to your French door can make it more secure. Consider using a high-quality deadbolt that extends deep into the door frame.
Use security film: Security film is a transparent layer of plastic that is applied to the glass of the French door. It prevents the glass from shattering when someone tries to break it.
Install a security bar: A security bar can be used to lock the French door from the inside. It is a quick and easy way to add an extra layer of security to your French doors.
Classic and Modern French Door Styles:
French doors are available in different styles that can complement your home's architectural style. Here are some classic and modern styles of French doors to choose from:
Traditional French doors: These doors feature classic designs with multiple glass panels that enhance natural light and provide a picturesque view of the outdoors.
Modern French doors: These doors feature sleek and minimalist designs that suit contemporary home styles. They are available in various materials and finishes.
Ultimately, the choice between traditional and modern French doors will depend on your personal preferences and the style of your home's exterior. Be sure to consider both options carefully before making a decision.
Are French Doors Energy Efficient?
French doors are an excellent way to add natural light and a touch of elegance to your home's exterior. However, one concern many homeowners have is whether or not French doors are energy-efficient. The answer is that it depends on the materials and construction of the doors.
Material
If you want energy-efficient French doors, you should choose a high-quality door made from materials designed for insulation. Some of the best materials for energy efficiency include fiberglass, vinyl, and wood clad with vinyl or aluminum. These materials offer excellent insulation properties, preventing heat transfer and keeping your home comfortable throughout the year.
Low-E Glass
Another way to improve the energy efficiency of your French doors is by choosing doors with low-emissivity (low-E) glass. Low-E glass has a special coating that reduces heat transfer, making it easier to maintain a comfortable temperature inside your home while minimizing the amount of energy needed to cool or heat it.
Installation
It's also important to ensure that your French doors are properly installed and sealed. Poor installation can create gaps around the door, allowing air leaks that can impact your home's energy efficiency. Make sure to work with a reputable contractor who has experience installing French doors to ensure that your doors are installed correctly.
Overall, French doors can be energy-efficient if you choose the right materials and take proper installation and sealing measures. Bottom of Form
Pros & Cons of French Doors:
Like any other home improvement project, French doors have their advantages and disadvantages. Here are some pros and cons of French doors to consider:
Pros:
They provide a beautiful and elegant way to merge indoor and outdoor living spaces.
They offer more natural light and fresh air, which can enhance your home's comfort and aesthetic appeal.
French doors are available in various styles and materials, making it easy to choose a design that fits your home's architecture and style.
They can increase your home's value and appeal to potential buyers if you decide to sell your home in the future.
Cons:
French doors can be expensive, especially if you opt for high-quality materials and installation services.
They may require regular maintenance to keep them in good condition and prevent damage caused by weather and moisture.
French doors may not be the most energy-efficient option, especially if they are made from materials that are not designed for insulation.
Final Thoughts
Exterior French doors can add a touch of elegance and sophistication to your home's exterior while providing more natural light and fresh air.
When choosing an exterior French door, it is essential to consider your home's architecture, your budget, and the materials used to make the door. Additionally, you should ensure that your French doors are secure and energy-efficient to maximize their benefits.
With this guide, you should be able to choose the perfect French door that meets your needs and fits your home's style.