Guide for Bi-fold Door Sizes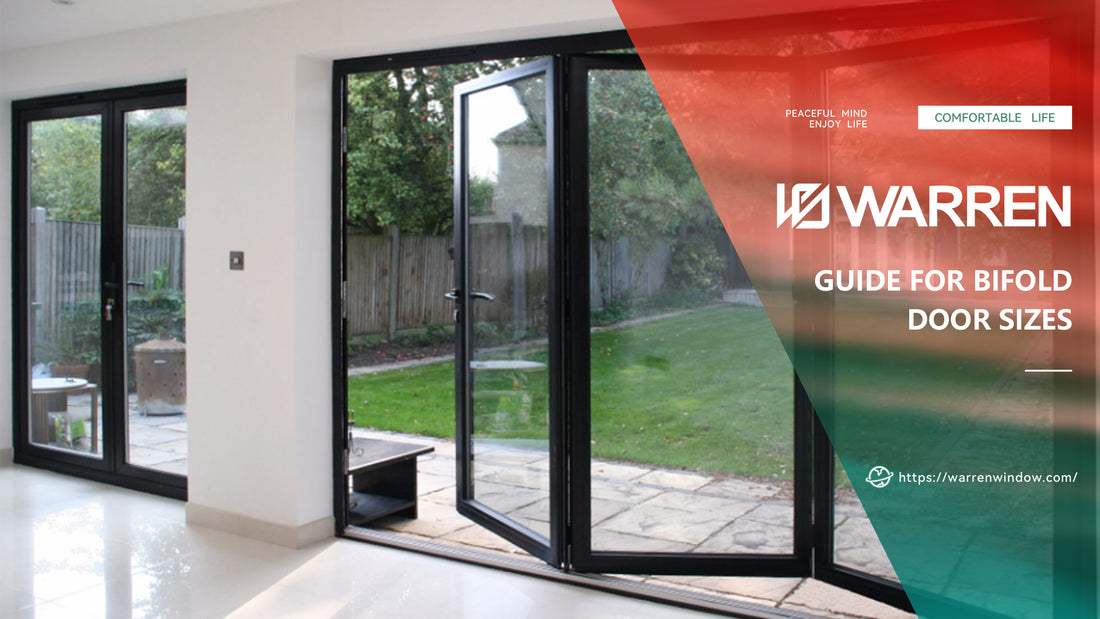 Welcome to the comprehensive guide for bifold door sizes. In this article, we will delve into the world of bifold doors and explore everything you need to know about their sizes, measurements, and installation. Whether you're a homeowner looking to upgrade your interior design or a DIY enthusiast eager to tackle a new project, understanding bifold door sizes is crucial for a successful installation.
 How to Size Your Wall Opening Accurately?
 Before diving into the specifics of bifold door sizes, it's essential to start with accurate measurements of your wall opening. To ensure a seamless fit and hassle-free installation, follow these simple steps: 
Grab your measuring tape and measure the width of the wall opening from side to side. Note down the measurement in inches or centimeters.
Measure the height of the wall opening from top to bottom. Be precise and record the measurement.
Take note of any irregularities or obstructions, such as baseboards or light switches, which might affect the door's installation.
Bi-fold Doors with Jambs
 Bi-fold doors with jambs are a popular choice for homeowners due to their ease of installation and aesthetic appeal. Jambs provide added support and stability to the doors, making them a reliable option for various spaces in your home.
 When selecting a bifold door with jambs, consider the following factors:
Door Panel Width:Measure the width of the door panels when fully opened and add the required clearance space to ensure smooth operation.
Door Height:Measure the height of the door panels, including any additional height for the top track and bottom clearance.
By accurately measuring the door panel width and height, you can ensure a proper fit within the wall opening and achieve optimal functionality.
 How Do Bi-fold Doors Work?
 To truly appreciate bifold door sizes, it's essential to understand how these doors operate. Bi-fold doors are designed with hinged panels that fold together in a concertina-like manner. When fully opened, the panels stack neatly against one side of the wall opening, creating an expansive and unobstructed entryway.
 Bi-fold doors are supported by a top track and a bottom guide track, allowing smooth movement and preventing the panels from swinging outward. This mechanism ensures stability and safety while maximizing space utilization.
 What Size Should a Bi-fold Door Be to Fit Correctly in the Opening?
Choosing the right size for your bi-fold door is crucial for a proper fit and optimal functionality. Here are the key considerations when determining the door size:
Wall Opening Dimensions:Measure the width and height of the wall opening accurately, as discussed earlier. These dimensions will serve as the starting point for selecting the appropriate door size.
Panel Configuration:Decide on the number of panels you prefer for your bifold door. Options usually range from two to eight panels, depending on the desired width and available space.
Clearance Requirements:Consider the necessary clearance space for the door to operate smoothly without any obstructions. This includes accounting for any baseboards, light switches, or furniture that might affect the door's movement.
By considering these factors, you can choose a bifold door size that perfectly fits your wall opening and complements your interior design.
What Is the Minimum Size for Bi-fold Doors?
 While bifold doors come in various sizes to accommodate different spaces, there is a minimum size requirement to ensure proper functionality. The minimum size for a bifold door typically depends on the manufacturer and the specific design. However, as a general guideline, a bi-fold door should have a minimum width of around 24 inches (61 cm) and a minimum height of approximately 80 inches (203 cm).
It's important to note that these are rough estimates, and it's recommended to consult the manufacturer's specifications for precise measurements. Factors such as the panel configuration and the available space will also influence the minimum size requirements for your specific installation.
How Much Space Do You Need for a Bi-fold Door?
 Understanding the space requirements for a bi-fold door is essential to ensure smooth operation and prevent any obstructions. Here are the key considerations when determining the space needed:
Clearance for Opening: Bi-fold doors require space for the panels to fully open and fold back. As a general rule of thumb, allocate at least half the width of the door as clearance space. This allows the panels to stack neatly against the adjacent wall without interfering with the room's layout.
Clearance for Closing:When the door is closed, ensure that there is enough clearance for the panels to align properly within the wall opening. This prevents any misalignment or overlapping, ensuring a secure and tight seal when the door is shut.
Clearance for Swinging:Bi-fold doors with jambs may swing outward slightly during the opening and closing process. Ensure that there is sufficient space around the door to accommodate this movement without any obstructions, such as furniture or walls.
Conclusion 
By providing adequate clearance for opening, closing, and swinging, you can optimize the functionality of your bi-fold door and create a seamless transition between spaces.
In conclusion, this comprehensive guide has provided valuable insights into the world of bifold door sizes. By following the steps outlined for accurately measuring your wall opening, considering panel configurations, and accounting for clearance requirements, you can confidently select the perfect size for your bi-fold door installation.
Understanding how bi-fold doors work and the minimum size requirements ensures that you choose a door that fits correctly and functions optimally. Additionally, being aware of the space needed for opening, closing, and swinging helps prevent any obstructions and allows for a smooth and seamless operation.
Remember to consult manufacturer specifications and guidelines for precise measurements and recommendations specific to your chosen bi-fold door model. Websites like Home Repair Geek's resource on bifold door sizes can be valuable references during the installation process.
By taking a careful and analytical approach to selecting the right bifold door size, you can transform your living space, enhance its aesthetics, and create a functional and stylish entryway that will leave a lasting impression. So go ahead, confidently embark on your bifold door installation journey and enjoy the benefits of this versatile and visually appealing door option.