4 Types of Windows: European Windows, American Windows, German Windows, and French Windows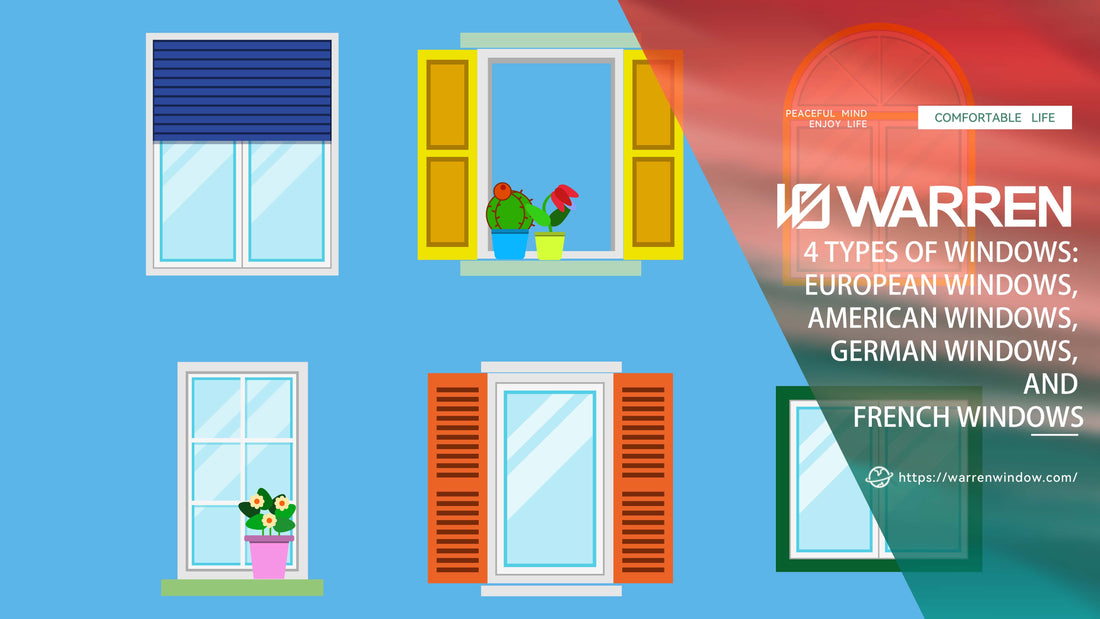 When it comes to choosing windows for your home, you get plenty of options that include European Windows, American Windows, German Windows, and French Windows. Each one of these has its own specifications. Let's find out what characteristics make each one of these special and unique. 
European Windows
Window and door designs that originated in Europe and share a variety of design features are called "European windows and doors." 
There are usually these characteristics:
For windows, you can tilt and turn, and for doors, you can lift and slide.
Cool features like modern lines, slim profiles, and customizable colors.
Features like high-end thermal efficiency and soundproofing.
Window profiles in Europe are thermally broken. There are air chambers and thermally broken connecting materials between the exterior material and the interior material, whether it's aluminum, steel, or PVC. Foam can often be added to these air chambers to add insulation. This window's thermal break minimizes thermal energy transfer between its interior and exterior with these chambers and materials.
Triple glazing is standard on European windows. Thermal efficiency is also determined by the window's glazing. Triple glazing can be easily installed on European windows and doors by leaving extra space. It's significantly better than standard double glazing because it uses three panes of glass and fills the gap between them with insulating gas.
The seals on European windows are better. European windows have better seals between the vent and the frame because they have different opening mechanisms. It also wears and tears less because the vent doesn't slide through these seals like a double-hung window.
Advantages
The warm air can be ventilated more.
Saving energy.
Reflect heat one way with low-emissivity glass.
Soundproofing is good.
Compared with other window types, these are relatively cheaper.
Downsides
Frames with steel core tubing are heavier.
Prices are a bit high compared to other types of windows.
Doesn't match most American styles. 
American Windows
For generations, Canadians have used American-standard windows. North American neighborhoods have windows from different eras, so you'll see lots of different architectural styles. Whether it's a gigantic mansion or an adorable modern home, you'll find everything there. There are many sizes and styles of North American windows available from large to small; colors to suit any house; and interior finishes to suit any style from heritage to modern, to suit any home in Canada.
In American homes, double-pane windows are common. Between an outside environment and a home's interior, these provide one layer of insulation. Window triple-panes have two layers of insulation, while quad-panes have four layers.
American vinyl windows come in many styles that work in almost any home, like:
Awning windows
Single slider 
Single hung
Casement windows
Double slider 
Bay and bow 
Double hung windows
American windows take up little space when they're opened. They're perfect for letting in some light. There's gas in between the glass sheets of double-paned American windows. There's krypton or argon gas in the high-end windows.
They're great energy savers because they're made with low-emissivity glass. As a result, the temperature doesn't easily get through the house using this type of glass. As well as blocking heat, American windows block outdoor noise. The noise gets reduced through these double-pane windows. In terms of aesthetics, American windows will enhance the appearance of your home.
Advantages
When open, it doesn't take up space.
Installs easily.
Cheaper than other types of windows.
Reflect heat in one direction with low-emissivity glass.
There's no steel core tubing, so it's lighter and more portable.
Soundproofing is good.
Downsides
Insulates less
Frosty or stuck in cold climates or winters
Using outdated technology.
German Windows
You can't beat German windows and doors. A premium product that saves energy. German doors and windows can withstand the elements. German doors and windows are weatherproof, so they won't chip, fade, or rot. Top-quality German windows and doors provide excellent energy efficiency compared to wood or vinyl.
There are three popular tilt positions: 45 degrees, 48 degrees, and 49 degrees. Each set of German-designed windows includes external tracks and sash cord reels. All installation sets come with sash cord reels, as they are one of the most commonly installed components.
German tilt-and-turn windows also feature the double locking system, which is standard on most windows and doors. Because all locks are pre-installed and secure with a turn of the handle, there is no need to buy additional pieces. The combination lock is an additional locking option. With German doors, only uPVC can be used, so one hand is required to operate each shutter; vinyl models require two hands. 
German windows and doors are known for their sound reduction. In addition to reducing noise levels, they can be insulated to reduce sound even further. Polyester film on the glass and aluminum frames are important features of these windows and doors. It acts as a sound barrier because it is quite thick.
In addition to their thermal performance, German windows and doors also come with many other benefits. Depending on how much light is entering your house or place of business, the tilt and turn capabilities will let you open and close your windows and doors. A cutting-edge locking system is another option for securing your doors. In addition, there are some other features to take a look at when you are considering German technology. You can choose between smoked glass, an aluminum frame, and even a vinyl-coated fiberglass window. Whichever kind of German windows or doors you need, you will undoubtedly discover just what you need to give your house or place of business the appearance and feel you want.
Advantages
Long-lasting and highly durable.
Easy to use and clean.
House with security.
Colors available.
Soundproof up to 2x.
Windows that tilt and turn are made of aluminum and uPVC.
Save energy.
Downsides
Installation is hard due to the heavy materials. 
French Windows
Whether you want to enhance your home's natural light or let fresh air in, a French window is a great choice. A French window is a hinged, double-pane unit that opens outwards or inwards. Their central mullion allows both sides to operate independently, unlike casement windows. Because of their unobstructed views and light-letting qualities, French windows have endured for centuries. 
French windows have only one side of the hinge attached to the window frame, unlike casement windows, which have a central post. They have floating mullions (or wings). The result is a large, uninterrupted opening with no obstructions. Therefore, some of the taller French windows are still considered windows, even though you can walk through them like a door. Several models have espagnolette locking systems, each with a handle. 
It's possible to use the larger ones as doors. It's because of this that they're sometimes called French doors. French doors have more glass and are bigger with a floor-length opening. An elegant French window has a narrower profile. 
UPVC or aluminum are the most common materials used today to make French windows, but they still look classic. They offer unmatched views. The popularity of these hasn't changed for hundreds of years. 
Advantages 
A great view and ventilation.
The large opening lets in more light.
Effortlessly reduces cold and heat losses.
It fits snugly on all sides. 
Downsides
Not suitable for narrow spaces.
Attracts moisture.
Takes up a lot of space.
Damaged easily in windy areas.
Final Thoughts
When it comes to choosing windows for your home, there are a few factors you should consider. These include the amount of natural light and ventilation, window style, budget, low maintenance, and energy efficiency. With the right combination of these factors, you can find the perfect windows for your home.